When I met Michal, she was incredibly warm and did a great job of extracting the right information from me in order to find not just the type of person I was asking for but the one I really needed… .All it took was one match for me to get everything I could ever ask for and more (sniff sniff, single tear).
Only regret I have is that I didn't make Michal and her husband pay for dinner the last time the four of us went out together. Come on, Michal–first match? I made it easy on you! 🙂
Michal and I met in 2019. I was tired of online dating and wasn't having much success at all. She really listened to me as to what I was looking for and gave me some great advice. A few months later she contacted me with a potential match!I met him and everything just fell into place. It was as if we just clicked and knew each other from the start. We moved in together shortly after and are now happily married! I know we wouldn't have ever met if it wouldn't have been for Michal. Thanks Michal!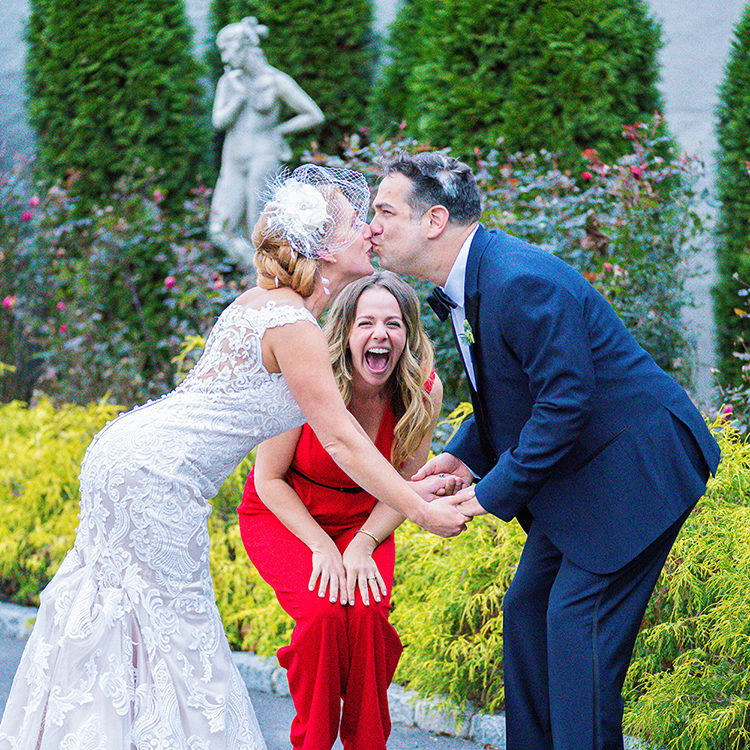 For those of you reading this that have been through the trenches the search is just over. DONE. Michal got to know me and what I wanted in a match that I didn't know I deserved, or really how to get it. Michal introduced me to Adam, and the rest is magic. We fell in love hard and fast, and we got engaged 7 months shy of our first date. Michal has been a resource and a support every step of the way. I truly didn't know I could really be THIS happy.
Michal is such a lovely, supportive person.
She is easy to open up to and quickly got to know me well, even going far out of her comfort zone to experience one of my interests. Michal sought to highlight the things that make me unique and find matches that would appreciate those things, never suggesting I change or not share all of myself. Every introduction she made resulted in a good date – even if it was only one date, I felt my time was well spent. I am now married to my match and Michal has supported me every step of the way. I am excited for the future and so glad I made the decision to hire Michal!
Simply put – Michal was meant to be a Matchmaker.
Michal's warm and energetic personality immediately enabled me to feel at ease and open up. In our first meeting, I felt as if I knew her for years – telling my journey and the type of person I'm looking for to share my life. She has a natural ability to connect with people and you can feel her passion for bringing people together to find love and companionship.
Michal was amazing.
She asked good questions and was very insightful. She clearly listened to me, because I was enthusiastic about all of my matches. She offered a lot of good advice and suggestions that made me approach dating in a much more thoughtful manner. She's incredibly responsive and supportive, and was always available to answer questions and concerns. Working with her was great. I didn't feel like I was dealing with a Matchmaker. I felt like I had made a friend.
I went to matchmaking because was interested in dating, but didn't have time to sift through a million profiles. Michal was featured as a fabulous matchmaker in the Philly press. She did not disappoint. She took the time to understand who I am and what I was looking for, but beyond that, she sincerely cares.I am honestly grateful to know her.Besides being an incredible person, Michal is extremely skilled with a wide network of possible matches. She does the sifting for you and finds people with real potential. She even had tons of creative ideas about how to manage dating under stay-at-home orders for coronavirus. She inspired me to be open to all kinds of new experiences. She matched me with amazing people, encouraged me to try new things, and the entire process was a ton of fun. Can't recommend her enough.
Although it didn't work out for me Michal has an incredibly caring genuine heart. I truly believe she cares and therefore, trying matchmaker services is a step in the right direction, instead of going in blind with hopes and being let down, you are given a real perspective and third party neutral insight into what the other party may want (or not want). I am so glad I got to meet someone thru her services , I honestly felt like she knew me and knew what I was seeking and that alone made the whole process worth it.
The time came for my first match from Michal. Seeing how I have worked with a few matchmakers in the past, I knew first matches are generally rough. I was wrong. My first date was just "ok "and to be honest, so was the second and third date. After each date, I had a recap with Michal, which I really valued. By the fourth date, I knew I had found my future wife. She is everything I could ask for and more. I do not know how Michal did it, especially after one face to face and a few phone calls and email exchanges, but she was able to see something in the both of us that made us compatible. I am very thankful for what she has done for me and plan on keeping in contact with her as my relationship matures.
I truly felt like she helped me better understand myself in terms of my wants/needs in a partner. They were not afraid of giving me the tough love I needed to hear and were supported of the decisions I made, even if they didn't always agree. During this process, I was reacquainted with someone I had gone on a few dates with several years ago when I first moved to the area. Using what I had learned from Michal, I went in with an open mind and open heart. Even though this was not one of my contracted matches, Michal continues to be supportive and offer me advice.
The service is a huge help to your time, your emotional health, your life generally… it is expensive, but Michal has been amazing at finding some excellent matches and working to get the client relationship just right.
I had a great experience! Michal is an amazing matchmaker. She really listened to what I was looking for and provided well-vetted matches. I am still seeing one of the matches and feel very positive about it! Above all, Michal is so personable and friendly – it was a pleasure to work with her!